Before I start with the pictures. I def forgot to mention that I went to two Haunted Houses last weekend and they were awesome! Saturday night Christine, Nick, Mel and I went to Lake Compounce. Madddd funnnn omggg. haha. Went on some rides. Boulder Dash at night is siiickk! lol. went into the haunted graveyard. so much fun. only part I got really scared was in the cornfields cause the guy with a chainsaw came running after us lol. but it was really cool. Sunday night I went to the one in Stamford with Kim, Andrea and Vin. mucho fun. Vin got the guy mad lol but then saved us cause he entertained the billy goat so we could cross the bridge haha. it was pretty cool and actually scary. After we went to get some food at Wendys. omg that shit was hilarious! the guy at the window was so weird. he was sitting out the pick up window waiting for our food to be done and hes like looking at Andrea and is like "hmm its cold out here" and we all just started dieing! Vin was like SHES TAKEN ALREADY! ahahaha. came back to my house to eat. funny shit too. SPOONS! lol. and that was that. that weekend was awesome.
but last night was fucking crazy!

After school Christine and I went to Gregs house.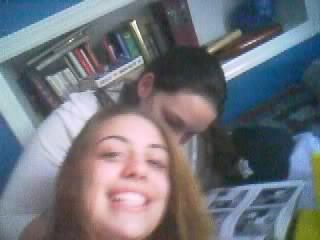 and Matt was there too.



We chilled there for alittle and then went to pick up Leni and George and went to Partys Plus to get some face paint for the game. We went back to Gregs house and started painting our faces.


Leni painting Matts face.


and again..



Me starting to paint my face. and Christine in the background with her face painted already.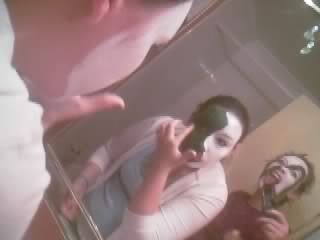 me finishing up.



Gregs face already painted



George chillen cause hes done.

Then Annette came! and got her face painted..


Me, Christine and Greg with our faces done. its hot, you know it! :oP

and then we were off to the game.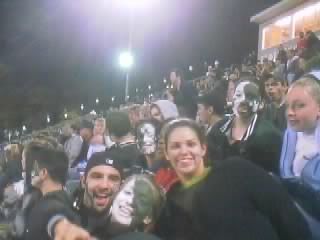 Nick, Christine & Amanda up front. Leni in the back. and Me tryin to get in the pic and my Kimmers just not paying attention.

When Nick got to the game we has to tag him up too..



Em painted her face too.


B sorta lookin, Peter not payin attention to the cam, Em and part of Nelsons face.



George at the game.

Em had Greg watch her purse, so he decided to wear it..


Annette and Leni havin fun at the game



Net bein her crazy self.

After the game we waited by the boys locker room for the team to come out. and Nelson took out his really cool light sabres.



Nick with the light sabre, Net and Leni.

They were all waiting for Mike to come out.. and Net took a pic when he did.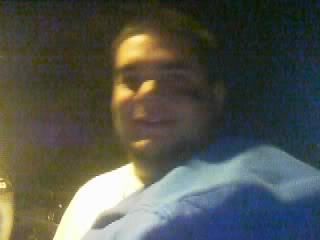 and thats the end of the pictures.
After the game Christine, Nick, Amanda, Annette, Em, Mike, Marcelle & Greg met up at Gregs house. I took the face paint off cause after the game Greg and I were messing eachothers up so we just took it off. Then we all went to Taco Bell and got some foodums and then just went back to Gregs. Net had to leave. and then Mike and Marcelle left soon after. We all just kinda chilled in Gregs room. Christine and Nick left alittle later. and then Em and I left alittle after 12. It was alot of fun. good times with good peoples haha.

don't know whats up for today/tonight. I might go to the Cavalcade to see Amanda perform. I don't know yet though. I gotta see who else will go.

well I'm out.
♥
[.Wendy.]